President's Address
We celebrate the wonderful and hard-working people who drive our organization forward, fostering a culture of maple excellence and innovation to produce one of the world's most loved natural sweeteners.
President's Address June 2023
Message from Martin Désilets, President of the International Maple Syrup Institute
Dear IMSI members and maple industry colleagues,
The IMSI is now going on its 48th year. It's an extraordinary institution with a history that has served the maple industry very well. Dr. David Garrett of the Aiken Maple Research Lab in Vermont and Dr. Jim Marvin were part of a leadership team that proposed to form an international group of producers and processors encompassing both the U.S. and Canada.
Amazingly, Canadian and U.S. maple businesses and organizations big and small got together to form an organization that would promote the common interests of all maple stakeholders. Since 1975, the IMSI has participated fully in articulating a common strategic vision and taking actions to ensure our industry's competitiveness and continued success.
The IMSI's role of uniting, informing and representing its members is more important than ever because our business environment is changing much faster now and requires nimble, proactive and highly competent responses.
For example, we foresee the need to work with government regulators on a number of subjects that will require the industry's input and influence to safeguard our interests. We will need to address issues such as sustainability and climate change effectively, by aligning our efforts and resources and working collaboratively to position our industry favorably with our consumers and our trade customers and the public in general.
Climate change will disrupt global food production and therefore influence food choices and consumer attitudes and beliefs about food categories including maple products. Our unique, sustainable forest-farming business, our long history of engaged and innovative environmental stewardship is a great story to tell.
I strongly believe that in the context of our times, our industry has an opportunity to gain an even more positive and meaningful place in consumers' hearts and minds. Pure maple syrup from our forests has the potential to become the most loved sweetener, used more often and in a multitude of new ways.
Together we can leverage opportunities for our maple community to manage change proactively, to take a larger share of the sweetener market and increase maple's relevance and popularity as a sustainable and natural food.
Thank you for supporting the IMSI.
Martin Désilets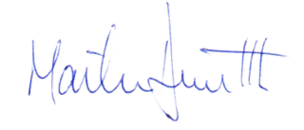 President, IMSI